Hello everyone! Today I have for you a special little treat I created
for my inspirational piece for
I have created this one piece mini album that also can be used
with Sherri Baldy My Besties Pocket Letters. This measures, when closed, 3" x 4"
and 1/2" thick.
For this I have used the Sherri Baldy Designer Pack
Geisha Blossom. You can find it
HERE
Start with one sheet of 12 x 12 cardstock. I have used black Recollections
as I like the weight of it.
You will need to score at 4" and 8"
Here I have one already scored and cut so you have an idea of what it will be
Rotate clockwise and score at 3", 3 1/2", 6 1/2", 7", 10" and 10 1/2"
As you see I then cut on the fold lines and made alternating
shorter panels. These small panels will become the pockets. I made them 2"
The arrows are pointing to the little flap that will help make these pockets.
Just fold in and glue down and there is your pockets.
I have used a 1" circle punch for my pockets. You could use a
decorative punch or leave straight.
For the pocket inserts, I cut them at 2 3/4" x 3 3/4".
All you need to do is decorate and create!
I added a small magnet for my closure. I just glue under my decorative papers.
I forgot to glue in my magnet before papers for the flap, so I just added this decorative die cut
to put over my magnet/
What magnets do I use?
These are
0.196" (5mm) x 0.039" (1mm), magnetized through the thickness.
HERE is where I get my magnets. I am sure there are many other places, but I have
had nothing but great service and fast shipping with this company. There
are many other sizes to pick from also.
I hope you have enjoyed todays project.
Come and join us with all your Besties creations.
We love to see what everyone
creates.
You can find all the Designer Papers and Pocket Letters at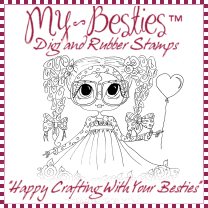 xoxo
Heather